Graduated Compression
(20~30 mmHg)
75% Nylon
25% Lycra
Model
Knee-High
13 - 15 inches high cuff
Sizes
Calf
- Small: 11" - 15"
- Medium: 13" - 17"
- Large: 14" - 18"
- Extra-Large: 15" - 20"
Foot
One Size Fits Unisex adult sizes:
- U.S. Men's Sizes: 6.5 - 12
- U.S. Women's Sizes: 6+
- European Sizes: 36 - 44
- Custom sizes also available
Style
Models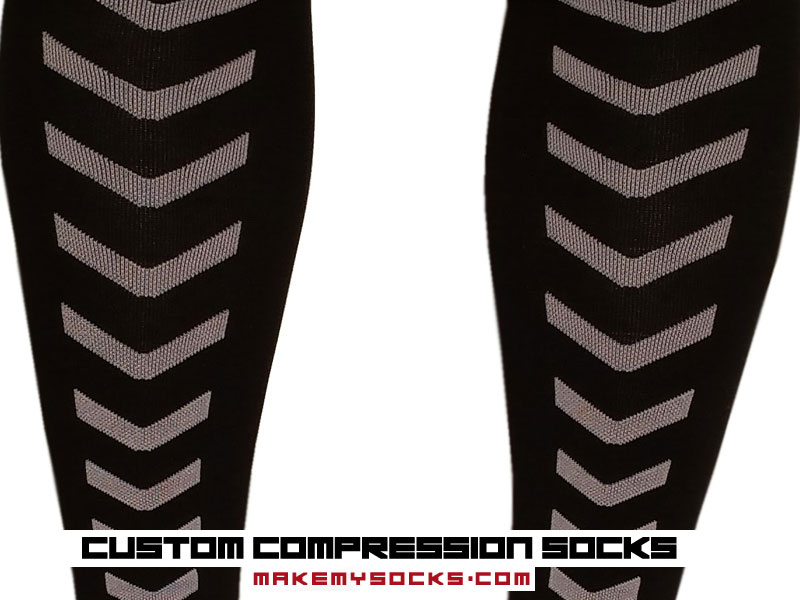 D
esigned for athletes – most particularly for running and crossfit – and those suffering from swelling, compression socks not only protect your leg but also increase blood circulation. As a result, they help muscles to regenerate more efficiently, whether it's during workout or recovery.
Using the most advanced medical compression stocking testing equipment (MST Professional), we are an exclusive manufacturer of high quality graduated compression models, guaranteeing real compression for our customers.
Our compression knee-high socks are 13 inches high (not to be confused with compression sleeves which don't include the foot) and allow you to have your logo/design all over the sock.
The minimum quantity for any custom compression order is 800 pairs (multiple sizes included) and the starting price for that quantity is $17 per pair. Price breaks are available for wholesale quantities – for more information, please contact us.
SUPERIOR COMFORT & DURABILITY
Our compression socks provide extra muscle support
Our compression socks are comfortable
Our compression socks remove risks of shin splints
FULL CUSTOMIZATION
Full customization: Your socks will be specifically created and personalized for you, based on your requirements.
Unlimited designs: We will work with you to make your dream sock designs come alive.
Unlimited colors: We offer a wide selection of colors allowing to match your design colors.
Fully knitted models: Logos and designs are fully woven into the fabric, creating better looking socks – you won't have to worry about fading printed designs or cheap embroidery.
HASSLE-FREE ORDERING
Minimum Quantity: 800 pairs.
Payment: 2 affordable payments of 50% upfront, 50% at delivery+shipping.
Turnaround: 8 weeks standard turnaround for guaranteed deadlines.
Shipping: Low cost UPS ground for the U.S. and by Air for international orders.
EASY PROCESS
Send your design: Email you design/logo, with the model and quantity needed.
Get your free quote: Get an instant free quote, with no obligations.
Place your order: Secure credit cards and Paypal payments accepted.
Get your mockup: Approve your digital mockup once you are 100% satisfied.
Get your socks: Receive your customized socks 8 weeks later.
OUR PLEDGE
Free Quote
Free Setup
No hidden fees
Highest Quality
Competitive prices
Guaranteed Delivery
100% Satisfaction Guaranteed
NEED HELP CUSTOMIZING COMPRESSION SOCKS?

Let Us Help You Create your Dream Socks!
For more info or to get your Free quote, contact us here.